How to Clean Your Workplace During Christmas Party Season
Our Expert Advice to Keep Your Staff Safe During the Christmas Party Season
It doesn't matter what type of business you are, a restaurant, office-based, or even an entertainment venue. At this time of year, hundreds of different people could be coming and going from your facility each day which makes it vital that you are extra vigilant and take steps to improve cleanliness, in order to keep people safe. The festive season is one of the most enjoyable times of the year, but it's probably been a stressful year for your team, so rewarding them with some well-deserved downtime at your Christmas party is always a great way to boost morale and say thank you.
It's even more important than ever to be extra attentive in making sure your facility is a clean and safe environment for your employees, visitors, and staff, their health and wellness depends on their work environment being a clean and safe place to prevent germs from spreading. So, if you're organising a Christmas party or your facility is hosting events, take a look at our top tips.
How to Maintain and Increase Cleanliness in The Workplace This Christmas
Increasing Accessibility to Waste Disposables and Sanitiser
Pre-plan the number of waste bins available in your workplace, are bins within reach and easily accessible? Do you have enough bins to cater to the Christmas party? Increasing the number of bins at your Christmas party will allow your team members to dispose of waste easily, as well as avoiding excess rubbish lying around the office, which will make tidying up that much quicker.
During the Christmas party season, you will also want to ensure you have enough sanitisers available to stop the spread of germs. Germs are spread through touching contaminated surfaces, and through the air so, therefore it is important that cleanliness and hygiene are maintained and that sanitisation products are easily accessible to prevent the spread of germs in your workplace.
Being prepared for spills to prevent stains
Your employees will be having fun, socialising, and making the most of the workplace Christmas party, so spills will more than likely be unavoidable. Therefore, it's important to be prepared rather than clean the mess up after the party to prevent stains and bacteria. Make sure your workplace has the correct solutions to treat food and drink spills to ensure the safety of your employees, prevent stains and bacteria growth if left too long.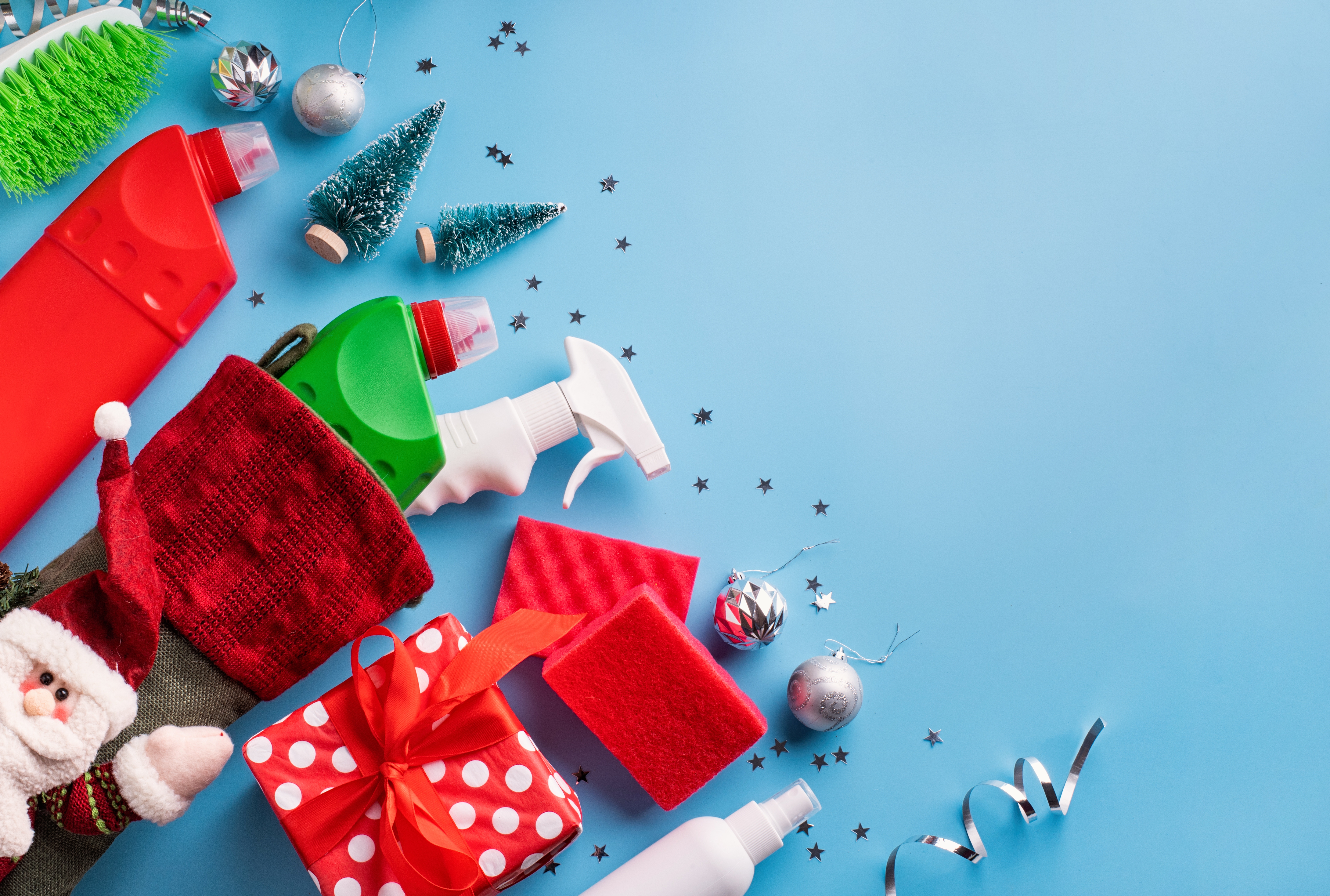 Planning ahead to prevent a messy party
Organising the space that you have for your Christmas party is the best approach to preventing mess. To begin with, set up stations and mark the designated areas so people are aware of where to put their rubbish and belongings. Have a section for food, drinks and designated bin areas for cans and bottles and food plates. Planning a structure like this will help your employees know where the waste bins are, where the sanitisers and wipes are to ensure they can clean up any messes.
Cleaning as you go and accessibility to wipes and solutions
There are many solutions such as wipes and cleaning solutions available to clean throughout the Christmas party which will also help the cleanliness of your office the next day. Make sure everyone is aware of where the wipes and solutions are so that they can help themselves. Having this in place will maintain hygiene levels. Also, ensure that you let employees know where to put their bags, coats, food, and drink, to ensure swift tidying up to get set for a new day of work with a clean office.
Partner with a cleaning provider to take the hassle out of cleaning up
Planning and hosting an office Christmas party can be extremely stressful and the prospect of having to cleaning up all of that mess can seem daunting, plus the fact our expert tips may not be enough to get your office back into shape, especially after a lively Christmas party. So what can you do?
By partnering with a professional cleaning provider, you can relax and enjoy the party being safe in the knowledge that after the yuletide fun, your workspace will be clean and in top shape ready to tackle another day of work … or your not so festive hangover.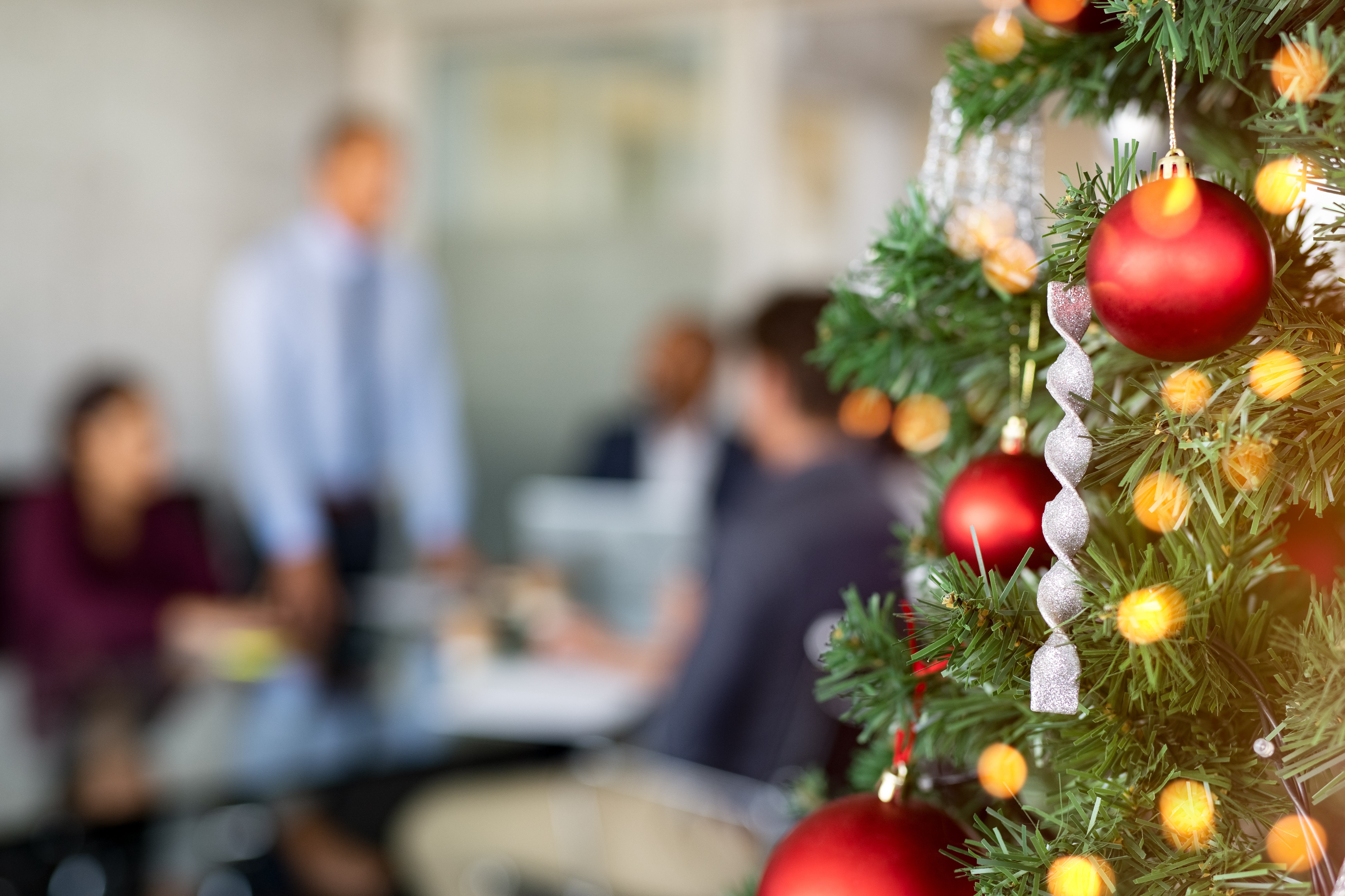 Jani-King Are on Hand to Help You Clean Up This Winter
Take the stress out of cleaning and let us help you be prepared for your office Christmas party. With many years of experience, we are experts in making sure the cleanliness of your workplace is at its highest standard. To find out more, contact our team today.