Workplace Cleaning Checklist for 2021
The COVID-19 pandemic has no doubt taken the world by storm. The virus has continued to spread globally being transmitted through contaminated surfaces and people breathing in spoiled air particles. There are many reasons why the virus has continued to be transmitted which may include lack of social distancing in high traffic environments to insufficient cleaning to incorrect hygiene routine. Now more than ever it's come to the world's attention how important excellent hygiene and cleanliness standards are throughout public facilities, home spaces and workplaces.
When the virus begins to ease many employees are going to be hesitant about returning to the office. In fact, according to a poll conducted in 2020, 2 in 5 office workers were anxious about returning to the workplace. In order to ensure you instil confidence into your employees, as an employer you may want to start thinking about what steps can be put in place to ensure they do feel confident and safe. One thing to think about is what workplace cleaning routines you put in place. To help you deliver high cleanliness, we have put together a workplace cleaning checklist that gives you guidance on what areas in your office you should be prioritising.
The Importance of a Clean Workplace
A clean workplace represents safety and assures staff and visitors you care about the people within your organisation. Maintaining the hygiene within your facilities not only keeps all who come and go safe from infection but can also improve productivity, focus and efficiency. On the flip side, a lack of hygiene creates a negative atmosphere and culture within your team while in the current climate it may make office employees feel uneasy. Not only does bad hygiene negatively affect business figures but also the welfare and satisfaction of employees.
A study found 46% of over a thousand UK workers said they 'believed their office cleanliness had been responsible for sickness', 68% believed 'lack of general hygiene' was a factor impacting on their absences. By putting hygiene, health and the wellness of staff first by creating a clean workplace, you'll begin to see a boost in business growth and employee engagement overall.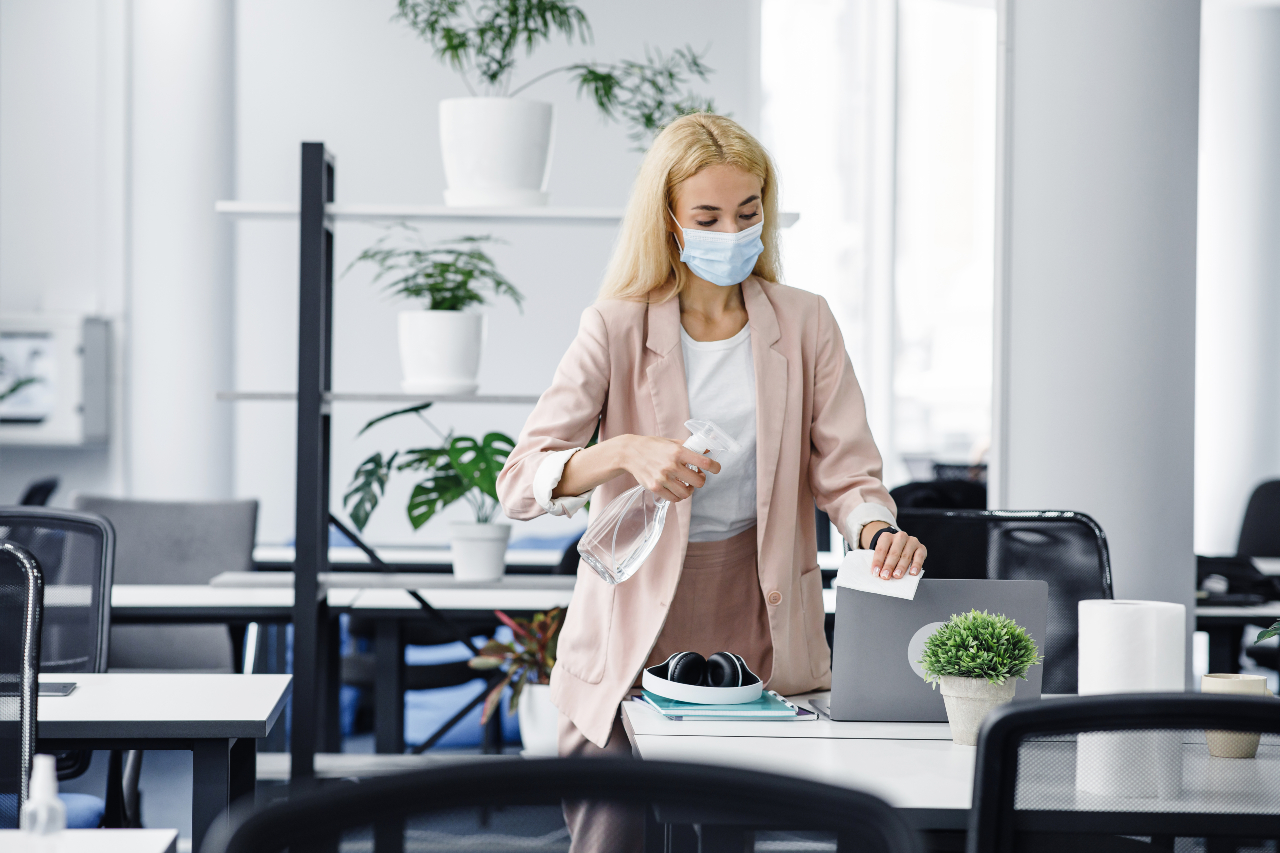 How to Keep the Office Clean
To consistently maintain hygiene within your offices you need regular cleans each week to ensure germs are kept at bay. A good cleaning routine helps with this, utilising effective methods of cleaning for the right areas, from entrance ways through to workers' desks and office equipment.
10 million bacteria live on office desks, the average computer keyboard harbours around 7500 bacteria and 11% of office workers never clean them. It's always a good idea to ensure surface wipes are also readily available to employees at all times with checklists in place to record exactly what should be cleaned and when.
Office Cleaning Checklists
As an employer, you have a duty of care to protect your staff and visitors from potential dangers and keep them safe.  By utilising daily, weekly and monthly cleaning checklists, you can rest assured your facilities stay clean in the most efficient and effective way possible. Without the necessary cleaning protocols in place, there'll be no way to measure and regulate your office cleaning which can have a negative impact on your employees and bottom line.
We have created a daily, weekly and monthly hygiene cleaning checklist to ensure you keep in control of your cleaning. These checklists will make cleaning routines manageable within your offices.
Daily Cleaning Checklist
Daily cleaning tasks are the minimum that should be done in order to keep your facility clean and sanitised. They should include:
Vacuum floors in all entrance spaces, offices, kitchens, washrooms including tiled floors
Mop all hard floors with disinfectant including washrooms and toilet floors
Wipe down any windows, mirrors or walls that have been touched
Empty rubbish bins, wash and replace bin liners.
Sanitise and disinfect all surfaces including office desks, tables, chairs, computer keyboards and mice, digital touch screens, monitors, skirting boards, handrails, doors, door frames, radiators, windowsills, light switches and any other surfaces frequently used and touched
Clean all kitchen facilities such as the fridge, microwaves, water dispensers and counter tops
Empty, load and run the dishwasher
Thoroughly sanitise all washroom facilities and toilets with disinfectant
Wipe down washroom counter tops including hand dryers, hand soap dispensers, etc.
Change and dispose of sanitary waste correctly
Refill all soap, sanitising and drying dispensers within washrooms and the general facility
Spray air freshener to ensure the facility is left with a fresh, clean smell
Weekly Cleaning Checklist
Weekly cleaning tasks are bigger, more in-depth disinfecting type cleaning jobs that could be done more efficiently and effectively with the help of professional commercial cleaning services. The following tasks will create a healthier work environment for all who come and go:
Disinfect all working surfaces such as office desks, computer keyboards, monitors, shared phones, screens.
Thoroughly clean windows and entryways
Empty and sanitise all bins and clean with disinfectant
Buff, disinfect and polish all hard floor surfaces and conference tables
Empty kitchen fridge and thoroughly disinfect
Monthly Cleaning Checklist 
Monthly cleaning tasks are those that can be left without affecting the health of employees however are still as vital as the daily and weekly cleaning tasks:
Vacuum all vents
Dust all high surfaces
Vacuum all fabric office chairs and visitor chairs
Vacuum and deep clean commonly touched surface areas
Essential Cleaning Supplies for Your Office 
Quality cleaning supplies are crucial to assuring the health and safety of your employees and visitors. In order to complete effective daily, weekly and monthly cleaning tasks you'll need to invest in proper cleaning equipment that'll allow you to do the job properly and maintain outstanding workplace hygiene. Prior to buying any products, you should check that they are safe and can be used on the surface/areas you are cleaning. Here are basic cleaning supplies to stock up on:
Disinfectant solution
Air freshener
Cleaning cloths
Multi-purpose cleaner
Glass and window cleaner
Furniture polish
Surface disinfectant wipes
Heavy-duty detergent
Washroom all-in-one cleaning solution
Bleach for toilets and urinals
Dishwashing liquid
Hand soap dispensers
Hand sanitising dispensers
Carpet cleaner
Descaling agent
COVID-19 Cleaning Considerations
A critical part of making your business covid-secure is to clean more frequently however rules should be followed if you are cleaning due to a suspected case of covid-19 in your workplace.
GOV.UK urges businesses to clean more often, and thoroughly, to reduce the spread of infection. In light of the way the virus is spreading, now is more important than ever to take onboard professional advice and meticulously ensure you're doing all you can to maintain a safe environment for employees.
As good hand hygiene is one of the best ways to battle COVID-19, the Government suggests implementing hand sanitising dispensers throughout your facility in addition to washrooms, along with displaying hygiene posters to encourage all to practice good hygiene at work. In addition, it's suggested that frequent cleaning of work areas, frequently touched surfaces or objects, door handles, keyboards, computers, etc., using effective cleaning products, is vital to controlling the spread of infection.
Perhaps implement weekly professional deep office cleans during a time when employees are not present to ensure they can return to a safe, clean office space with nothing to worry about. This way, your business can run smoothly with a reduced risk of disease and increased productivity, employee attendance and motivation within your business.
From increasing the number of times you clean your office surfaces, especially those that are regularly touched, to making sure employees and visitors are practicing social distancing, your organisations best efforts at stopping the spread of COVID-19 can impact not only those in the workplace but the wider community too.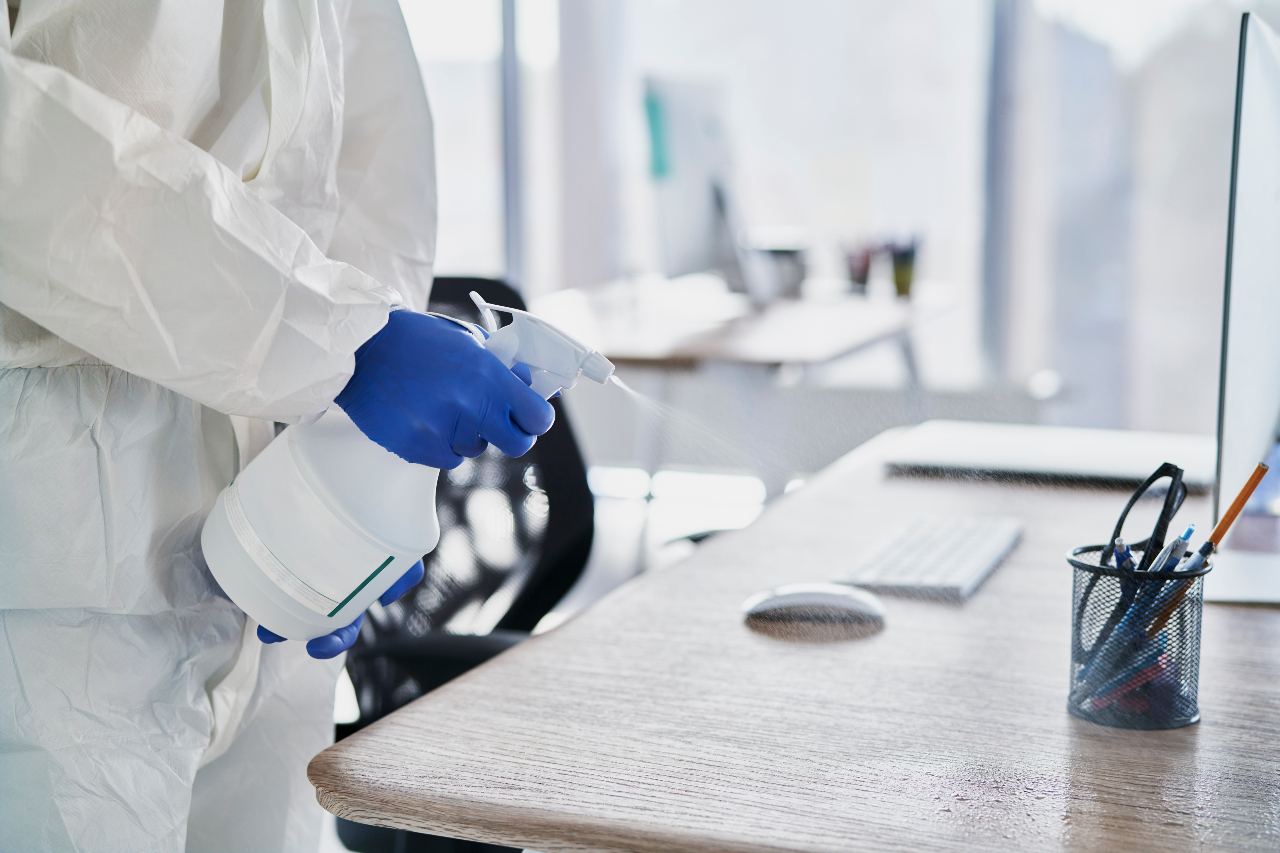 The Benefits of a Professional Cleaning Company
Neglecting your office space hygiene can have major repercussions on your business including brand image, employee wellness and facility standards, however, we understand keeping your office space in pristine condition isn't as simple as it sounds. To do so businesses require the right cleaning products, knowledge, additional time on top of all other commitments and expert skill to keep hygiene standards under control week in week out.
You may want to consider choosing a national cleaning company to help, with right expertise, chemicals, equipment and skills required to thoroughly clean and disinfect surfaces properly to ensure removal of germs and bacteria. While employees can help by cleaning down their workstations when they have finished for their day, they may not have the correct training or knowledge or feel confident in performing deep cleaning of areas especially at this critical time.
This is where the benefits of a professional cleaning company outweigh the costs.  With a commercial cleaning company, you can rest assured your staff and visitors are protected. Professional cleaners are always up to date with the latest cleaning knowledge and know exactly what chemicals and equipment to use to get rid of germs effectively. This means you and your employees can have peace of mind that the cleaning is being performing done right and to the highest standards.
Jani-King's Workplace Cleaning Services
Jani-King can support your business with our office and building cleaning services to ensure the highest levels of hygiene are maintained, no matter what your budget is. With over 50 years' experience and supported by a global brand, we can be your stable cleaning provider and you can rest assured that we aren't going anywhere.  We pride ourselves in offering cost-effective, exceptional commercial cleaning services to a range of businesses across the UK.
For more information about our services get in touch with our friendly expert team today by calling +44 (0)800 917 3293. We have everything you need from the best cleaning products on the market to the knowledge and skill required to ensure your facilities stay sparkly clean and most importantly safe at all times.