Why is Cleaning Important in Healthcare?
Cleanliness in any facility is important, but even more so in healthcare industries. With pressures on the healthcare industry continuously growing as a result of the backlog of appointments caused by the pandemic. However, amidst these pressures, it's important that hygiene standards are not forgotten about. Cleaning in medical practices such as GP surgeries, hospitals, and dental surgeries is essential to protect staff, visitors and patients, keep facilities running smoothly and, comply with industry guidelines.
In this blog, we dive deeper into why it's so important to keep your healthcare facility clean and what you can do to manage it.
4 Reasons why healthcare facility cleaning is essential
Minimise the risk of infection
Managing the risk of infection is a key reason as to why the cleanliness of healthcare facilities should be closely monitored. With surfaces in the medical environment often being contaminated with pathogenic organisms such as MRSA, proper surface disinfection is crucial to keep the risk of transmission to a minimum.
Patients that are already unwell are even more at risk of catching an infection or disease due to having a weakened immune system, so it's even more important that harmful viruses and bacteria are removed from surfaces and equipment during cleans.
Keep staff and employees safe
The wellbeing and safety of patients is likely to take priority in a healthcare setting, however, it is also crucial to consider the safety of your employees. Medical practices are dependent on the skills and knowledge of its doctors, nurses, surgeons alike, and without sufficient cleaning practices in place, the health of these essential team members is likely to suffer. Your healthcare workers encounter a vast range of diseases and infections which could have a serious impact on their wellbeing. This could also lead to vital members of staff taking time off sick, which means patient care may suffer.
In addition to keeping your employees healthy and safe, having a clean healthcare facility is also likely to improve the overall productivity and efficiency of your team members. A clean workspace improves employee satisfaction, reduces distractions and improves motivation. This will further help to ensure that your patients are treated effectively and reduce staff absenteeism.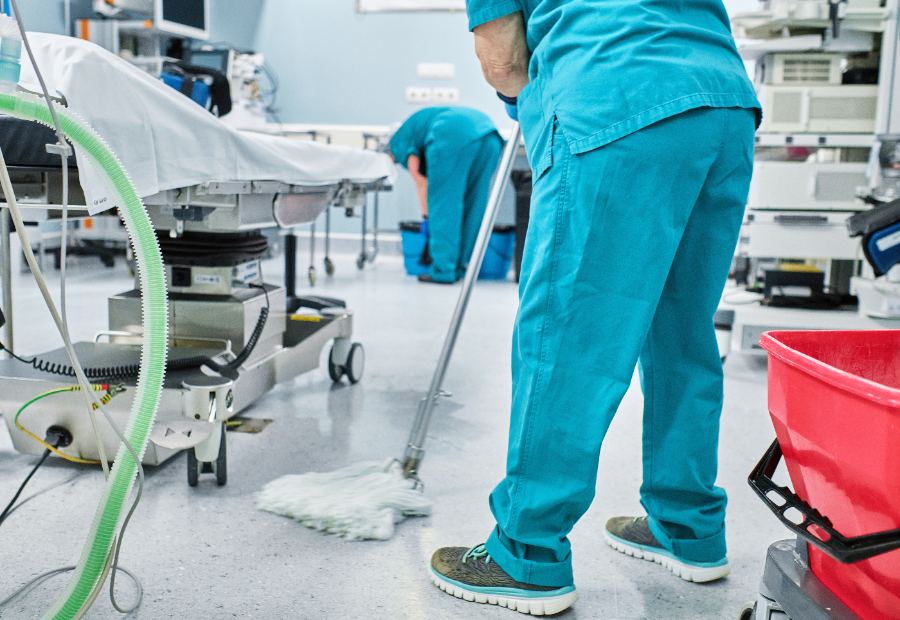 Comply with industry regulations
Correct healthcare cleaning is important to ensure compliance with industry regulations. All UK medical practices must comply with government legislation under the Health and Social Care Act 2008. An independent regulator of health and social care, the Care Quality Commission (CQC), monitors all surgeries and hospitals to ensure safe and effective care and that all regulations under the Act are met.
The CQC monitors both the premises and the equipment of healthcare facilities to ensure that appropriate cleaning methods are in place in order to be in line with the industry regulations. If a healthcare facility does not meet these strict cleanliness regulations, then they are likely to face hefty fines and may be considered liable if serious health issues occur as a result of an unhygienic medical practice.
Present a positive first impression
Whether you are running a private or public healthcare facility, a messy, unhygienic medical practice is unlikely to be successful. Patients will likely feel unsafe in a healthcare facility that is not professionally maintained and will ultimately go elsewhere if they have the option. So, when cleaning your healthcare facility, don't just focus on disinfecting surgery areas, but also spend time thoroughly cleaning waiting areas, corridors and reception areas to ensure you are making the right first impression. Factors such as dirty cushions, muddy floors, full rubbish bins and messy desks will likely give patients the impression that other areas of your healthcare facility are less than clean.
How to keep your healthcare facility clean
Have a regular cleaning schedule in place
An effective cleaning schedule should be in place to ensure that your medical facility not only looks clean, but is clean. Different areas of your healthcare facility will require different types of cleaning and at different frequencies. This will be dependent on what activities are carried out in that area and whether they are used by people at high risk of infection. For example, an operating theatre will need to be cleaned far more frequently than a filing cupboard.
When finalising your cleaning schedule, you should ensure that the regular cleaning of high touch points is accounted for. High touch areas include door handles, bed rails, toilet handles, charts etc. This will help to minimise cross contamination where possible.
Minimise cross contamination during cleaning
To ensure cross contamination during cleaning is kept to a minimum a colour coded cleaning system should be adopted by all staff undertaking cleaning. All cleaning items should be colour coded accordingly:
Red – bathrooms, showers, basins, toilets etc.
Green – ward kitchen areas, catering and areas of food service.
Blue – general areas including wards and offices.
Yellow – areas of isolation.
All staff carrying out cleaning activities should be wearing the relevant protective materials to further aid the reduction in infection transmission. Accordingly colour coded aprons should be worn as well as protective gloves which should be cleaned or changed between cleaning tasks.

Maintaining effective hand hygiene
Ensuring all staff, patients and visitors are cleaning their hands effectively is crucial to reducing the risk of infection. The technique, type of soap and length of washing will impact the effectiveness. The regularity of handwashing will also have an impact, with healthcare providers cleaning their hands less than half the number of times they should. Therefore, it's essential to educate your team members on the importance of regular and effective handwashing.
Hire professional healthcare industry cleaners
The vast cleaning requirements of the healthcare industry can be a hard, time-consuming task to tackle and whilst passing the responsibility over to your team members may seem like the easiest option, it may result in best practice cleaning not being met. Training your staff so that they meet the strict CQC regulations will consume a large chunk of your staff's precious time and will ultimately take them away from their focus on the delivery of care.
To ensure the cleaning of your healthcare facility is carried out to the highest standard and to the required frequency, why not consider hiring a team of professional cleaners? Benefits of hiring experienced healthcare facility cleaners include:
Reliable and professional cleaning that rapidly responds to your needs.
In depth-knowledge of the industry regulations to ensure that these are met.
Cleaning to the highest standard to improve the safety and wellbeing of your patients, visitors and staff.
Reduced pressure on staff so they can focus on the delivery of care.
How Jani-King can help your healthcare facility
Jani-King can help keep your medical facility to the highest level of hygiene to ensure the safety of all patients, staff and visitors whilst also keeping in line with industry regulations. With over 50 years of experience in healthcare cleaning, Jani-King is well versed when it comes to disinfecting and cleaning medical environments.
If you would like to find out more about how Jani-King's healthcare cleaning services could benefit your hospital, GP practice or dental surgery, then don't hesitate to get in touch with a member of our team.