What Are the Costs of Commercial Cleaning Equipment and Material?
Companies looking to make a sparkling impression to customers and visitors will inevitably be interested in investing in professional cleaning equipment and materials to allow for excellent maintenance and upkeep of their commercial facilities. When looking to create a safe environment, it's essential to stock your business up with the correct cleaning equipment to perform critical tasks properly. Without the right tools, this can lead to cleaning not being done properly which can result in bacteria and germs spreading, broken equipment and unsightly objects in your business, all of which can have an impact on the bottom line.
However, as important as this is for businesses, proper cleaning with the right materials can be costly, however it shouldn't be a cost that is underestimated.
This blog will explore the costs involved with commercial cleaning equipment and materials, giving guidelines on how much you can expect to pay for key pieces of kit.
What Commercial Cleaning Equipment Is Needed?
There are hundreds of cleaning products and solutions that do the trick however the essentials should not be missed. Here's a list of some of the common pieces of commercial cleaning equipment your business may need.
Commercial Cleaning Equipment List:
Commercial Mops
Commercial Mop Buckets and Wringers
Dustpan and Brushes
Cleaning Cloths, Mitts and Sponges
Buckets and Bowls
High-Performance Commercial Vacuum Cleaners
Rubber Gloves
Wet Floor Signs
Window Cleaning Equipment
Dusters
Bin Bags
All-purpose Cleaner
Disinfectant Cleaner
Floor Cleaning Solution
Glass and window cleaner
The Costs of Cleaning Materials for Commercial Facilities
Cleaning materials can have not only a large initial cost but also the additional costs that are involved with owning the devices over their lifetime, referred to as the 'Total Cost of Ownership' (TCO) also known as 'hidden costs'. This can include other factors beyond the initial purchase price such as repairs, servicing, top-ups and refills. When adding all the costs together it could equal hundreds of pounds and if you need specialist cleaning equipment such as jet washers or hard floor cleaning tools, this could easily equate to thousands.
Not only do the actual cleaning equipment and materials cost, utilising the equipment properly requires necessary training, and can take up valuable employee time – all of which have costs too.
As hygiene is extremely important, getting the right tools shouldn't be a cost that gets overlooked. However, if you are looking to save costs, hiring a commercial cleaning company can actually help you do this.
What Are the Costs of Commercial Cleaners?
With so much to be considered and understood when it comes to ensuring excellent hygiene standards day in, day out within your facility, hiring a professional cleaning company removes a large part of worry and stress which allows employees and company leaders to focus entirely on business operations and success.
The cost of hiring professional cleaners can range and will be dependent on your needs such as how often you require cleaners to come in and the square footage of your building. Having said this, in the long-run, they can work out extremely cost-effective as they will have to hand all the necessary equipment and chemicals they need to clean your facility – an expenditure you don't have to worry about. In addition to this, professional cleaners come equipped with prior knowledge and expertise so you don't have to worry about investing time and costs into training employees.
Yes, a commercial cleaning solution will still 'cost' your business however at a far lesser expense; depending on your tailor-made requirements, a professional cleaning can cost as little or as much as you want it to. Using in-house employees to clean your facility has a series of downsides including poor wellbeing, lack of experience/expertise, reduced productivity, higher risk of infection spread and requires your business to spend a large sum of money on cleaning equipment. However, hiring cleaning experts, with all the correct equipment and expertise, to begin with, leaves you able to focus on other important aspects of running a business.
Read our blog on whether employees should really be cleaning your workplace.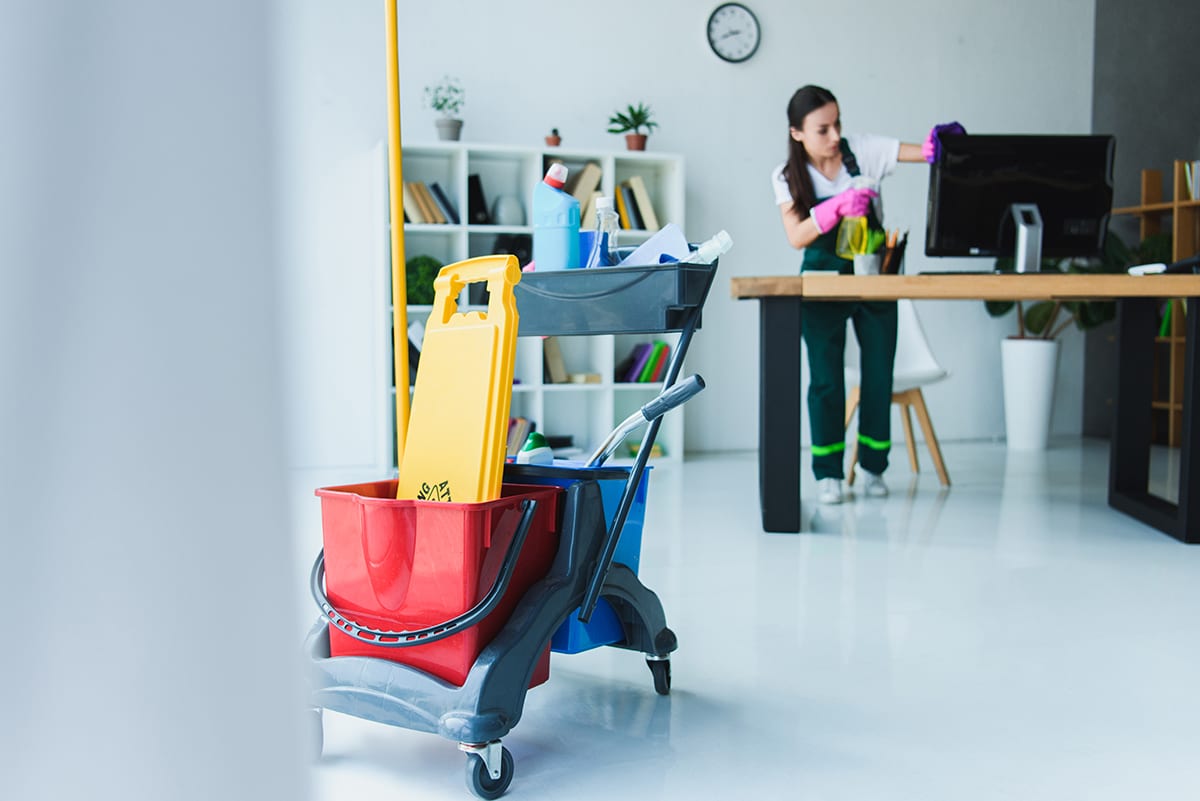 Why Hire a Commercial Cleaning Company for Your Business?
We all understand the need for hygiene, now more than ever. So much so that it's become a concern for businesses to satisfy the high hygiene expectations that customers and visitors have, to feel safe and confident. Commercial cleaning companies alleviate this concern from you and can promise the best hygiene standards are kept, maintained, and improved on to ensure who all come and go feel rest assured and comfortable within your premises.
Here's why you should hire commercial cleaning experts:
Avoid having to invest in inefficient cleaning equipment and staff training.
Easily meet Health & Safety requirements.
Stay up to date with the latest legislation.
Maintain consistent cleaning standards across multiple sites.
Employees can focus on their day-to-day priorities in a clean, productive environment.
Read our blog on why you should choose a national cleaning company.
Leave the Work to Jani-King – Save Costs on Cleaning Equipment and Materials
Jani-King have spent over 50 years' offering the best to our clients, with the expertise, equipment, and materials your business needs no matter where you're located in the country.
We have cleaning franchises across the UK, offering cost-effective commercial cleaning solutions to a range of commercial facilities.
We understand the importance of hygiene for your business and realise the costs associated with cleaning therefore we care about everything so that you don't have to. If you'd like to find out more about our services and how we can help your business, get in touch with the team today, we'd be happy to chat about your business cleaning needs.