Large sports venue cleaning is no problem for Jani-King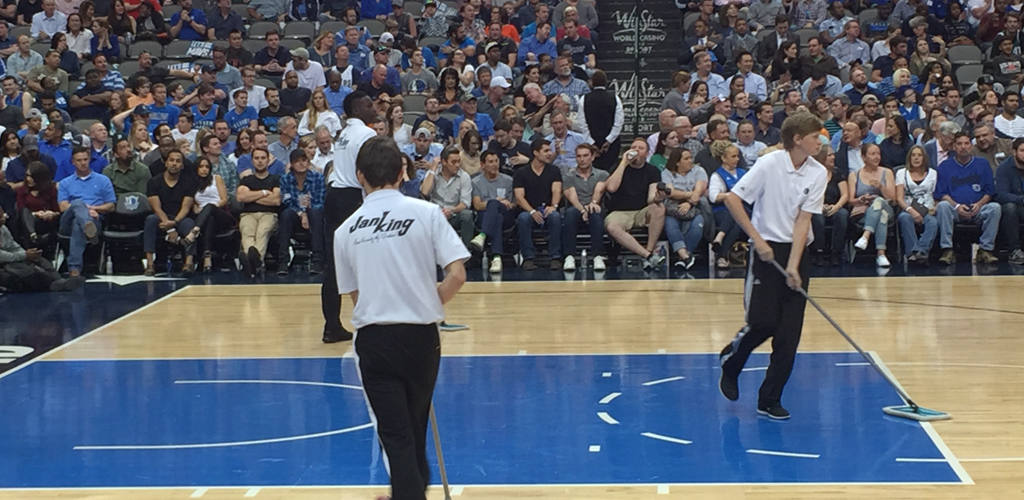 This week, Will Gavan, Jani-King UK Regional Director, is in Dallas, Texas visiting some of the sporting arenas and other venues currently maintained by Jani-King, but all work and no play is not Will's style!
NBA Court Cleaning
Will attended the Dallas Mavericks v Oklahoma City Thunder NBA Basketball game at the American Airlines Centre. But the thrilling Dallas 1 point defeat in the final seconds wasn't the highpoint for Will – he was delighted to see Jani-King sponsored event staff keeping the courts clean and dry during the breaks of play!
Market leaders in commercial Event Cleaning
As market leader of commercial cleaning in the UK, Jani-King caters for large venues such as stadiums, entertainment venues and sports arenas with specialised event venue cleaning services. We understand that ensuring event venues are thoroughly cleaned and kept in the best condition is paramount to your reputation and to those of the events you are hosting. Don't let your visitors be distracted from having a fantastic time by a less than impeccable venue.
Contact us today to find out how Jani-King can become an essential part of your event team.