Brush Up Your Knowledge – Dental Surgery Cleaning
Medical and healthcare facilities should make sure delivering high levels of hygiene and cleanliness are a top priority, and dental surgeries are no exception. Patients should be reassured that your dental practice engages in the best cleaning practices, as it can positively reflect the whole surgery.
Due to the COVID-19 pandemic, dental practices were closed during lockdown to reduce the risk of infection transmission. Since lifting, dental surgeries are returning to normal and with a backlog of dental appointments reported to be in the millions, the demand is higher than ever. As a result, the importance of cleanliness and hygiene will be heightened.
Providing exceptional levels of cleanliness is not only important for safety reasons but first impressions count, and it can greatly impact your patients' overall experience with your practice. It can help to present the best possible brand image, as well as providing a range of other benefits.
 What are the benefits of cleaning your dental practice?
Good hygiene leads to a safer work environment and avoids the transference of bacteria between dentist and patient
Cleaning spills can prevent accidents, which if left unattended could cause significant harm to the reputation of the business
The business will appear more professional and reliable
It will pass inspections by the Care Quality Commission (CQC). Failing these could lead to a closure of the facility
Increased patient satisfaction, leading to positive word-of-mouth and increased patient numbers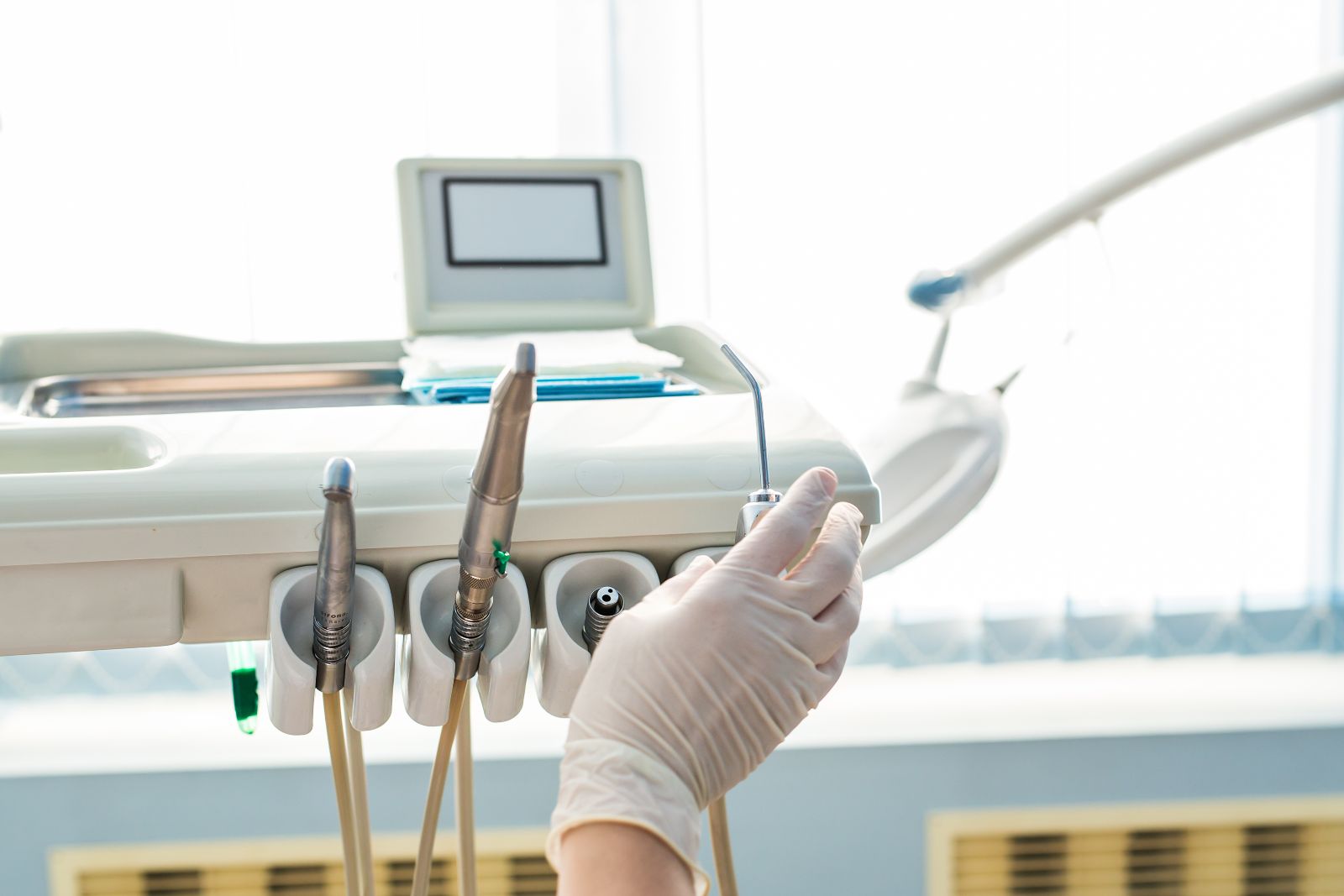 What areas should you be cleaning in your dental practice?
Dental practices have a range of equipment and surfaces that need to be cleaned on a regular basis. Some of these include chairs, any hard surfaces and specific dental equipment (teeth cleaning/suction devices).
It's important to also remember the reception area as well as bathrooms, as these will see frequent use from patients throughout the day.
Daily cleaning tasks
In patient rooms:
Wipe down any dental equipment (X-ray, suction, mouth rinsing)
Disinfect patient chairs (including armrests and headrests)
Make sure all work surfaces are sanitised, as well as doorknobs and light switches
Clean up any potential spillages throughout the day
In the reception/waiting areas:
Disinfect any contact points (doorknobs, card machines, desks, light switches)
Wipe down chairs (including armrests)
Empty bins and replace bin bag
Clean water dispensers (if necessary) and refill with fresh water
In toilets/bathrooms:
Flush toilets (if unflushed)
Clean surfaces of toilets/sinks/soap dispensers/hand dryers
Check soap and paper towel dispensers
Replace paper towels and toilet paper if necessary
Weekly cleaning tasks
In patient rooms:
Give the floor/rugs a deeper clean (including sweeping/mopping/vacuuming)
Dust surfaces, lights and ceiling corners
Disinfect bins and replace bin bags
In the reception/waiting areas:
Give the floor/rugs a deeper clean (including sweeping/mopping/vacuuming)
Dust surfaces, lights, air care units and ceilings
Disinfect bins and replace bin bags

In toilets/bathrooms:
Deep clean the floor by mopping and scrubbing tiles
Disinfect toilets/sinks/soap dispensers/hand dryers
Clean the mirrors
Dust anywhere necessary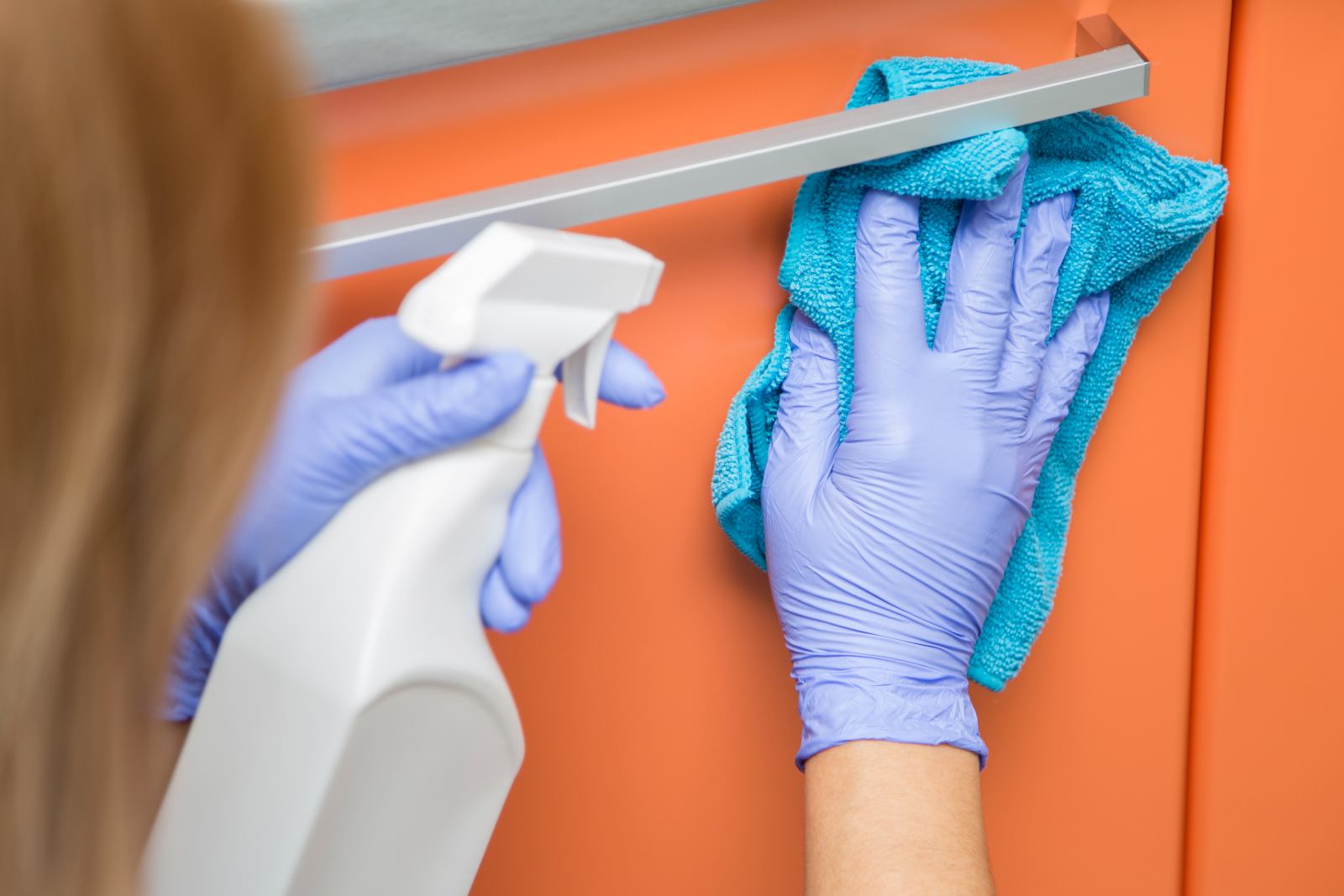 Monthly cleaning tasks
In patient rooms:
Thoroughly vacuum patient chairs (including armrests and headrests)
Dust equipment, corners of the room, and any blinds
Clean glass surfaces (tables, windows etc)
Check any vents in the room and vacuum/dust them
In the reception/waiting areas:
Thoroughly vacuum chairs or wipe them down, depending on their material
Dust any surfaces, appliances, and corners of the room
Clean glass windows or any other applicable items
Check curtains/windows and wash if necessary
In toilets/bathrooms:
Check blinds and dust/wash appropriately
Clean glass mirrors
Check curtains/binds and wash if needed
Cleaning regulations within the dental industry
There are clear regulations that are expected within the dental industry. The CQC inspect dental practices setting out five key questions that should be answered when assessing whether they're providing a good level of care and service. They also look at mandatory requirements as well as what is recommended, to help you get a clearer understanding of what to expect.
These mandatory requirements include having the dental reprocessing area far away from the dental chair, as well as ensuring adequate steps are taken to reduce risk to patients including washing and rinsing sinks, a dedicated area for inspection of cleaned instruments prior to sterilisation and a separate sink to perform handwashing.
Guidance on surface disinfection in dental surgeries
All cleaning services are required to have an understanding of COSHH (control of substances hazardous to health). This is in place to prevent accidents and mistreatment of substances that can potentially be very dangerous or even lethal.
So, what chemicals can you use to disinfect surfaces in a dental office? There are some essential criteria that you should consider when making a decision.
Safety – it's important to consider what protective equipment will be required.
Efficacy – how effective the disinfectant is at removing bacteria.
Spectrum of activity – the range of microorganisms removed.
Contact time – how long is required for it to be effective.
Most disinfectants and detergents are suitable for these practices but many prefer other alternatives.
Typically, for surface cleaning and disinfection, disinfectant wipes are the preferred choice. This is because they are easy to handle, quick to use, and convenient. Particularly in a busy dental practice, these wipes can save you a lot of time by giving surfaces a quick wipe down between appointments.
Reliable Cleaning Services for your Dental Practice
There is a lot to consider when cleaning your dental practice. This includes having the required knowledge of regulations for performing cleaning tasks with safe and effective products. When running your dental practice, this can seem overwhelming which is where Jani-King can help. We provide reliable and efficient healthcare cleaning services across the UK, with a reputation to provide outstanding results every time. Get a cleaning quote for your practice today.